Welcome to Tech Trek at Whittier College! We can hardly wait to meet you!
Tech Trek at Whittier offers girls a unique experience engaging in hands-on Science, Technology, Engineering, and Mathematic (STEM) activities. The camp evolves as the years pass so that our participants are always receiving applicable and valuable experiences. We employ highly competent and skilled secondary teachers to enhance the campers' core class experience. Campers are encouraged to keep an open mind as to what core class they are assigned as each core class provides an experience that cannot be acquired from a traditional classroom. Campers are sure to walk away with new knowledge and memories to last a lifetime. Whether it is simply a new interest, or a new-found passion and career goal, we strive to inspire our campers to pursue a life involving STEM.
---
Our Camp Model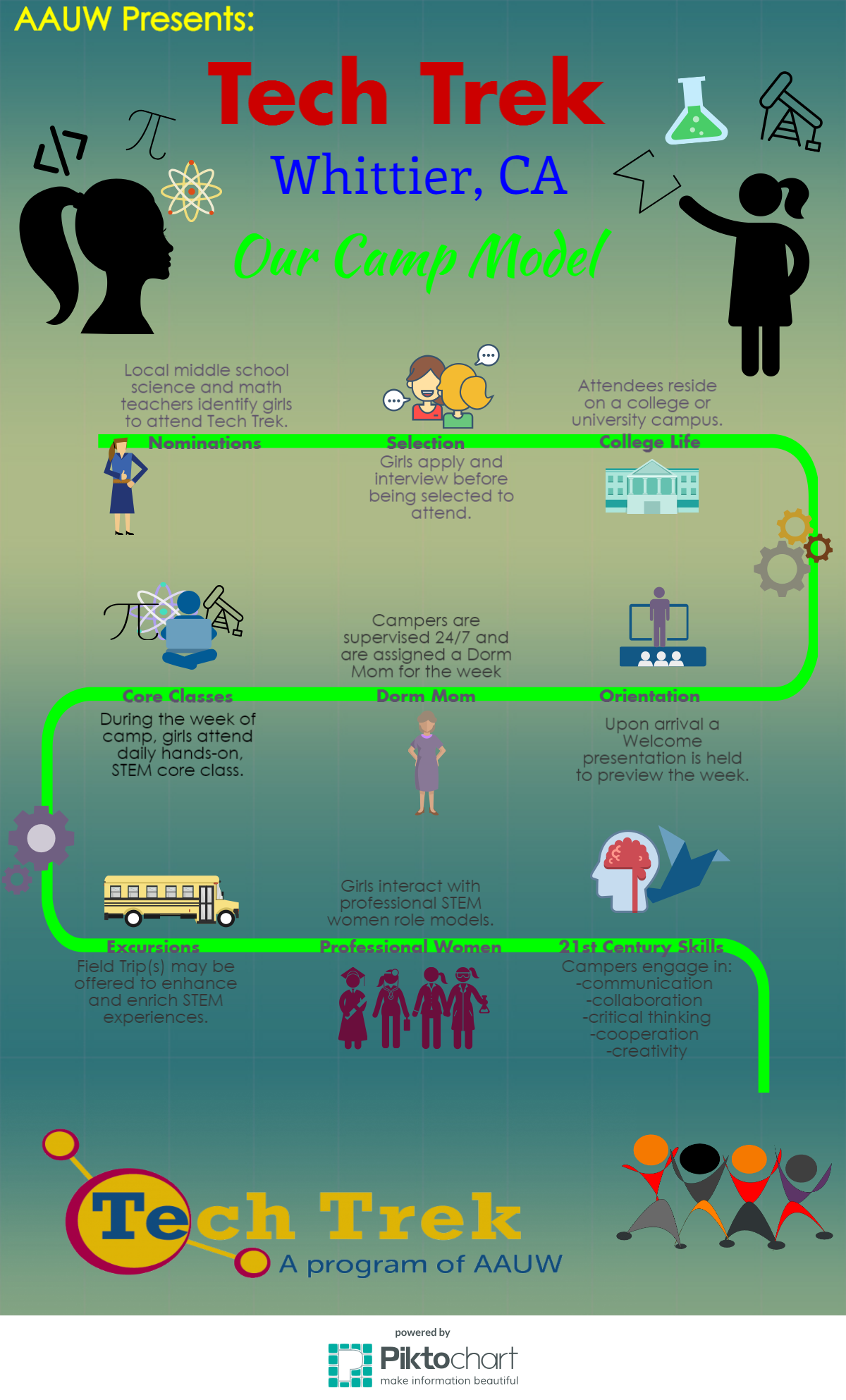 Local middle school science and math teachers identify girls to attend Tech Trek.

Girls apply and interview before being selected to attend.

Attendees reside on a college or university campus.

Upon arrival a Welcome presentation is held to preview the week.

During the week of camp, girls attend a daily STEM core class.

Campers are supervised 24/7 and are assigned a Dorm Mom for the week.

Girls perform engaging, hands-on activities throughout the day.

Field Trip(s) may be offered to enhance and enrich STEM experiences.

Girls interact with professional STEM women role models.

Workshops are offered to add a variety of STEM topics.

Presentation and Web 2.0 Skills are taught and used.

Campers engage in 21st Century tasks that enhance and encourage:

communication

collaboration

critical thinking

cooperation

Creativity

Parents/Guardians and guests are invited to attend the final presentations on the last day of camp prior to returning home.

Girls will receive a DVD with footage of their time at camp (this is to be picked up at your branch meeting following camp, see your branch coordinator for more information).